Introducing: ASMR
Hi friends,
do you know ASMR?
Two years ago, after hearing Grav3yardgirl mention ASMR in several of her videos, I decided to check out what the fuss was about. She mentioned that it relaxed her and helped with her anxiety.
My YouTube browsing usually takes place in bed, watching tutorials before I go to sleep. So I entered "ASMR" in YT search bar and found that there were in fact different types of ASMR videos. Some of the categories did not appeal to me at all, even if I did not really know what to expect. I clicked this video by Fairy Char as I could imagine this would relax me. I absolutely love it when someone plays with my hair, after all.
After a bit, I felt a tingly sensation on the back of my head. Just a second or two and it was gone. A few minutes later, it happened again. It bemused and amused me but I did not think too much of it. Best way to describe it would be with this: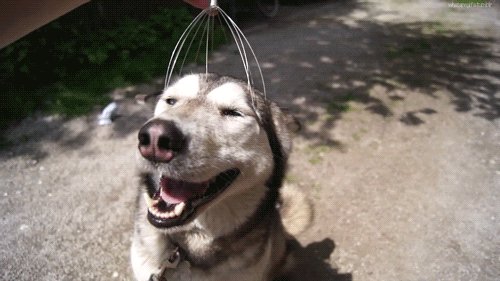 However, after watching the video, I decided to check out what ASMR actually is. I found the following on Wikipedia:
Autonomous sensory meridian response (ASMR) is an experience characterized by a static-like or tingling sensation on the skin that typically begins on the scalp and moves down the back of the neck and upper spine. It has been compared with auditory-tactile synesthesia[2][3] and may overlap with frisson.

ASMR signifies the subjective experience of "low-grade euphoria" characterized by "a combination of positive feelings and a distinct static-like tingling sensation on the skin". It is most commonly triggered by specific auditory or visual stimuli, and less commonly by intentional attention control.[4][5]
I was fascinated! Although I would not describe my experience as "low-grade euphoria", I had definitely felt that tingling sensation. And this had been supposed to happen? And I did not imagine it because I hadn't known in advance. I told my mother and sisters about it and they dutifully smiled. I realized that all those tutorials I had been watching for things I was never ever going to craft (Annemarie from SoapQueen was my best friend during a period that I had to take pain killers at 1am) had probably also been some form of ASMR.
Since then, I have watched tons and tons of ASMR videos. There are some that I can always count on to make me sleepy. However, I mainly use them to relax me. I think it can be compared to audiobooks. I had a check up after a while and my GP said that my blood pressure and heart rate were down. I still don't sleep well, so I definitely would not call it some magic cure to insomnia but I have been obsessed. There are tons of "curing your headache/migraine" ASMR videos on YT and I can tell you that I cannot tolerate them at all when I have a migraine.
I have found which triggers work for me and which don't (I'm looking at you, mouth sounds). I have found when I am more likely to get tingles. I have found which voices can lull me to sleep, when I can not normally sleep without ear plugs.
I will be sharing tips, tricks, videos and artists with you from now on. I hope you will enjoy them as much as I do 🙂
Do you already listen to ASMR, or watch it? Then I think you will enjoy this fun Buzzfeed list about ASMR!
Nenna