Captain Marvel – no spoilers
Hey everyone,
Are you into Marvel? Did you read the comics? Are you ready for End Game? So many questions, sorry about that. Personally, I'm not sure I'm ready for End Game. I am desperately hoping we will be getting some good news in that movie, because if not… I am still devastated from saying goodbye to characters in Infinity War.
End Game will include at least one character the other Avengers movies did not: Carol Danvers aka Captain Marvel. So now is the time for the public to get to know her and who she is in the Marvel Cinematic Universe. This post will not include any spoilers.
We went to see it over the weekend. We bought tickets online and holy cr*p, was I shocked at the price. We paid 37 Euro/42 USD for two Dolby Atmos 3D tickets. Wait, what?! Surely that included snacks and drinks? Nope.
Anyway. I wore my Her Universe dress because was there any other option?! This was part of the Loot 4 Fangirls in 2016.
The Dolby Atmos is really cool. At one time I honestly thought someone was knocking on a door to the theater. The 3D was also lovely. Do you know those movies where it seems the 3D effect was more of an afterthought? Or the movies where you almost end up ripping the glasses from your face because your brain gets so stressed? Not this movie. My SO prefers to see movies 2D but agreed that Captain Marvel was very well done in 3D.
The movie started with the well known Marvel intro (I'm sure everybody gets giddy like me as soon as that starts) and all the imagery was Stan Lee. A really beautiful tribute. Rest in Peace, sir.
So, story-wise. First thing: there was no love interest! Say whaaaat? Here we have a female lead and there is no handsome man to woo her. It can be done! And done well. Kudos!
It was so cool to get to know Nick Fury better. I felt he had such a fun chemistry with Carol Danvers and seeing him coo all over Goose made me grin. It was weird to see him with two eyes though, haha!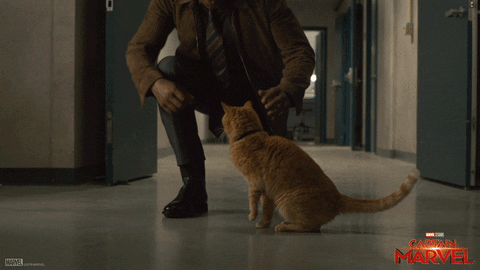 Onto Carol. How cool is Carol? She may be my favourite heroine. Sure, Wonder Woman was an amazing movie and the character is impressive but she's so… Goddessy. She is ethereally beautiful and 100% good. Carol is much more relatable.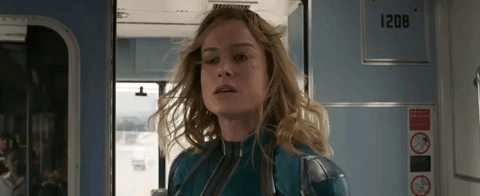 She is easy on the eyes but not stunning. She is sassy, gutsy, and real. Her hair gets messy, she gets sweaty. She makes mistakes. She snaps at people who are on her side. Plus she's tiny! Looking at her in her mannequin-borrowed outfit you can not help but feel she is a vulnerable person.
Honestly, she is a poster model that you should never allow anyone to limit you just because you shine brighter than they do. So even if you don't care for Marvel movies, I think we definitely have another cool female superhero for young girls to look up to. Thank you, Marvel and thank you, Stan Lee.